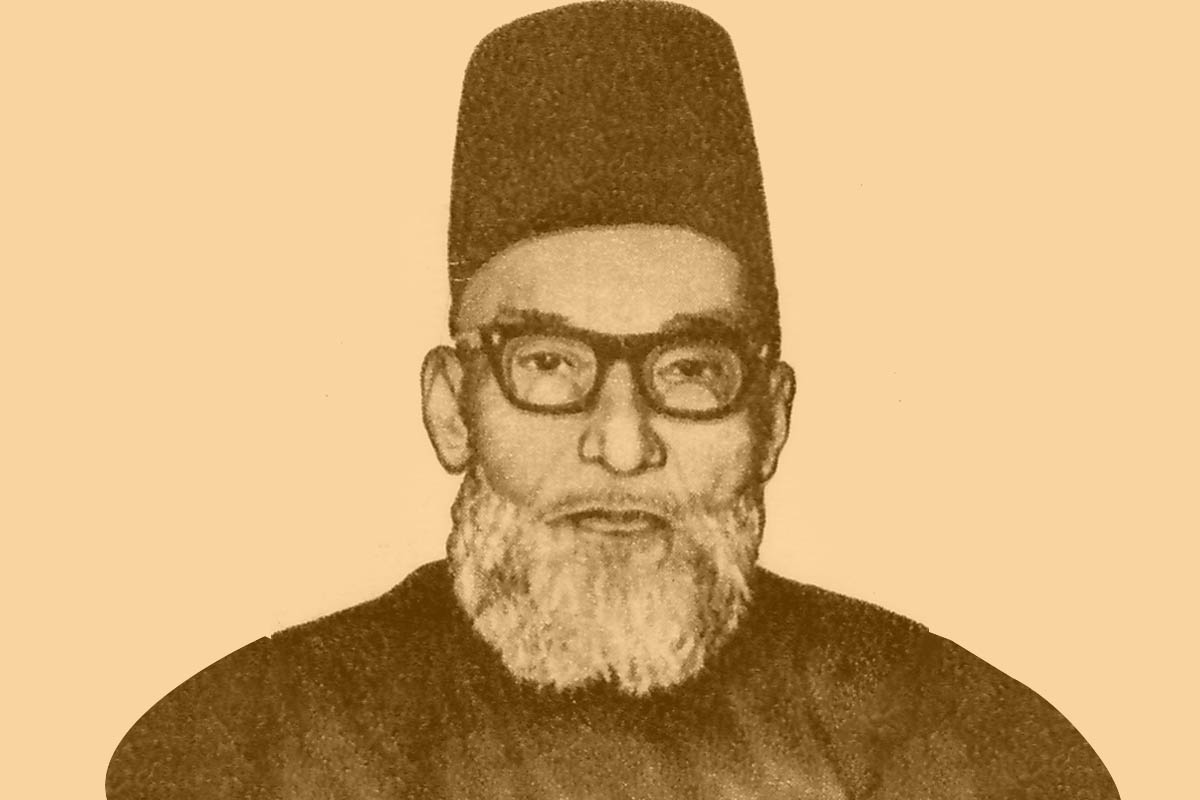 Quaid-e-Millat
A leader who loved his nation more than he loved himself, a leader who considered his language as his eternal love, and a leader whose love for people was limitless – it is none other than Quaid-e-Millat. This name, with which he was fondly addressed, is Arabic, and means 'the Leader of the Nation'. True to his name, he was a true leader in every sense of the word.


He was born in Pettai, Tirunelveli district. His given name is Muhammad Ismail Sahib. He lost his father at a young age and grew up in his mother's care. Even as a boy the thirst for independence was strong in him. He was then inspired by Gandhi and decided to participate in the Non-Cooperation Movement, though his B.A exams were at stake. In his later years, to make education accessible for everyone, he established 14 colleges including New College in Chennai, Jamal Muhammad College in Trichy, and Khadar Moideen College in Adhirampattinam. By opening such institutions, he gave a new life and hope to many Muslim families.


In 1936, he joined in the Muslim League party and engaged himself in various welfare activities. In 1945, he became the Head of Tamil Nadu Muslim League Party. In 1948, he was chosen as the head the All-India Muslim League.


When the country was split into India and Pakistan, the Muslim league also split into 2. With the bifurcation, the league's resources were also split. Muhammad Ali Jinnah offered to give Quaid-e-Millat India's share of Rs 17 lakh from Pakistan. Quaid-e-Millat firmly refused to receive it saying, "Pakistan is India's neighbour. We don't need anything from another country, we will ourselves raise the fund required for the party." When Rajaji, the first Governor General of Independent India offered to gather the funds, he dignifiedly refused that offer too.


On March 10, 1948, All-India Muslim League became 'Indian Union Muslim League'. In the same year, Quaid-e-Millat was elected to represent Tamil Nadu in the Constituent Assembly.


He blatantly declared, "Islam is my religion. Tamil is my mother tongue." Quaid-e-Millat was against Hindi Imposition. In 1949, at the Constituent Assembly, Quaid-e-Millat represented India. North Indians in the Assembly argued to make Hindi the National Language. A furious Quaid-e-Millat argued back, "For a language to be declared as the national language, it is not enough if the language merely has its origin in India; It should be ancient, it should possess rich literature. Only that kind of a language can become a National Language. If a language is selected on this basis, the first choice would be Tamil. It is ancient and it is rich. It is my mother tongue. Any linguist can attest to my statement." Along with opposing Hindi Imposition, he also argued to make Tamil the National Language.


Rajaji had to resign because of the Modified Scheme of Elementary Education, which is also popularly known as 'Kula Kalvi Thittam'. Consequently, Kamarajar contested in Gudiyatham constituency. In areas such as Vaaniyampadi, the Muslim population was high. So Kamarajar went to Quaid-e-Millat to ask for his support. With Quaid-e-Millat's support, Kamarajar won the election, and became the Chief Minister in the next election.


He fought relentlessly for the rights of the states and to protect the languages of the states. In 1956, the states were formed on the basis of language. By this step, Devikulam and Peermade or Peerumedu were annexed to Kerala. Tamil Nadu protested against this. Kamarajar tried to pacify the people, saying that it was still in India, in the same place it is now. Quaid-e-Millat who was then a Rajya Sabha member, opined that these 2 places have a major Tamil-speaking population and that they must remain a part of Tamil Nadu. To prove his claim, he illustrated that in the previous election, the majority of the people from these 2 regions voted in Tamil Nadu. In fact, he had more followers in Kerala than he had in Tamil Nadu. But without any hesitation, he spoke for what is right and not for what is convenient. In the elections that came next, he won in the Manjeri constituency of Kerala, not just once, but Thrice!


He sent his nomination papers via post and never went for a single campaign and yet won the election. It only further certifies that he was so certain that his deeds have benefited people and they would trust him to do more good with the right powers. How unbelievable it is that a candidate won without a campaign at all! Political analysts still marvel at this victory of Quaid-e-Millat.


In 1962, when China attempted to invade India, he voiced against the invasion and declared that he was ready to send his only son to enlist in the army, to protect India.


Though the exchanges between the Congress and the Indian Union Muslim League, Nehru had great respect for Quaid-e-Millat. Nehru has asked for his opinion on various issues. Following Nehru's footsteps, Indira Gandhi also found a sound advisor in Quaid-e-Millat.


In 1965, war broke out between India and Pakistan. Quaid-e-Millat's speech against Pakistan was recorded and played at the United Nations Assembly.


The 1967 Lok Sabha Election was different from the other Lok Sabha Elections. It was special for it was during that period that Dravida Munnetra Kazhagam (DMK) was termed an 'alliance of opposites. DMK allied with Communist Party, Sudhandhira Party, Ma Po Si's Tamizharasu Kazhagam, C P Adithanaar's Naam Tamizhar Katchi, and Quaid-e-Millat's party. A cartoon in Ananda Vigadan showed the various leaders marching on donkeys to the Secretariat. To this cartoon, DMK and the allied parties lashed back saying, "Donkeys are enough to enter the fort administered by Congress." Quaid-e-Millat responded, 'Donkeys will undoubtedly reach the destination. So, this cartoon is just a prophecy of our victory.' As he predicted, DMK and the allied parties won the election.


He was a great lover of arts and literature. He proposed to the Assembly for the establishment of a college exclusively for movies, to teach every aspect of a movie production. Anna spotted Quaid-e-Millat's love for literature and asked him to head the second International Tamil Conference, which took place in 1968.


His health took the toll of frequent travel and work-oriented lifestyle that left little for recreation. In 1971, he attended a series of meetings in winter, which made his condition worse. Upon returning from Delhi, his health worsened further and he was admitted in Stanley hospital, Chennai. On April 5, 19712, he left the mortal world to meet his maker.


After his passing away, his body was kept in New College for the public to pay their respects. The crowds that came to pay their respects stretched beyond one's vicinity. Periyar came to pay his respects, but he could not enter the place. Such was the crowd! Periyar's friend Erode K A S Alaudeen Sahib spotted Periyar, held Periyar's hand, cleared the crowd and brought Periyar near Quaid-e-Millat's body. Periyar started sobbing uncontrollably on seeing the lifeless body of his friend. People around Periyar consoled him. He softly said, "The Muslim Community is lucky to have a leader like him. A noble man, indeed." Generally, it is said the Periyar doesn't praise anyone easily. With Periyar's garland of praise, Quaid-e-Millat continues to live in the spirit of every person who wishes to do something for the society's welfare.