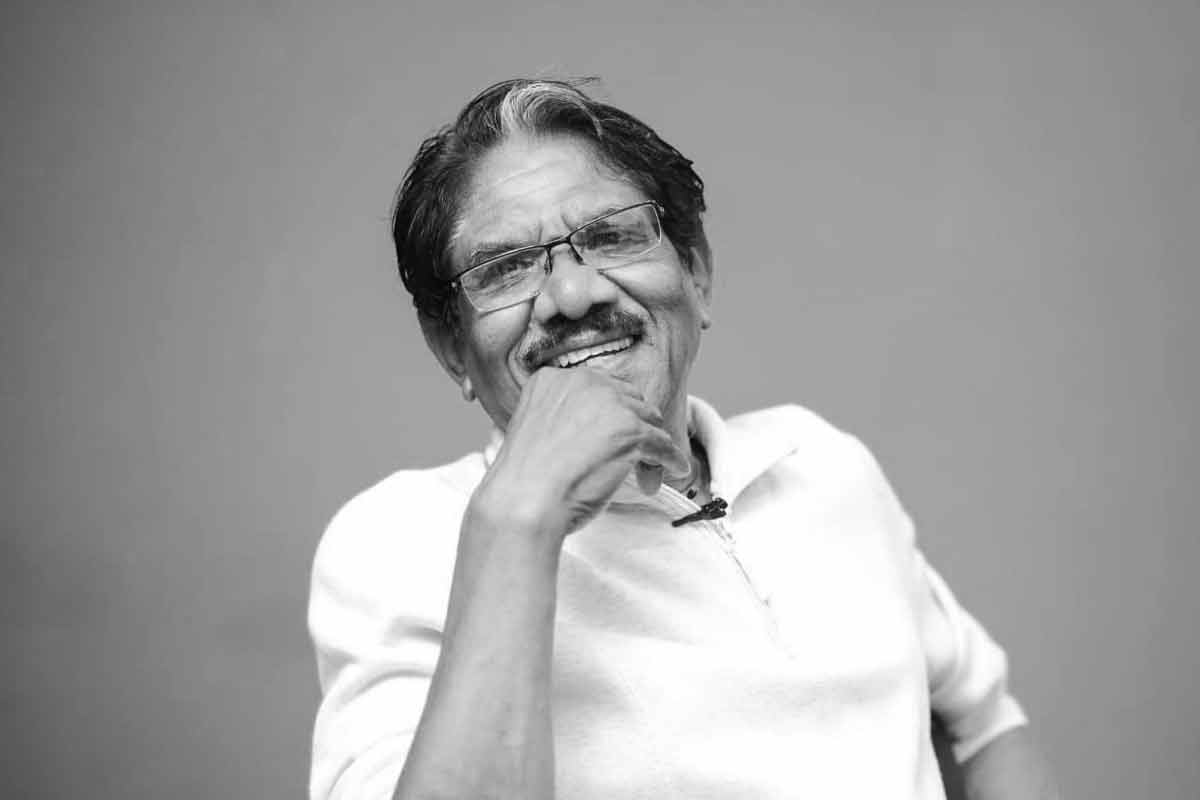 Bharathiraja
Bharathiraja – the pioneer of new generation tamil cinema that brought reality to the screen. Pushing aside the rosy depiction of love and life, Bharathiraja built his story on the harsh realities. Director Mahendran followed his suit in filmmaking. Inspired by Mahendran, Balu Mahendra took to realistic story-telling. Balu Mahendra's stories inspired Bala's realistic story-telling. Sasikumar and Ameer took a liking to realistic landscapes because of Bala's movies. So it would not be an exaggeration to say that Bharathiraja's style of filmmaking has impacted 4 generations and will continue to inspire the future filmmakers.
When Tamil cine industry was holed up inside studios, Bharathiraja took it as a point to show people the real places instead of being satisfied with a painting of a village in the background. This thirst for giving the best is what made his films stand the test of time. Along with giving a visual treat by way of shooting in real locations, his characters gave our minds food for thought. When traditional cinema had characters that were either black or white, his way characterisation brought in the grey element and made the realism aspect score higher. From Parattai of Padhinaaru Vayadhiniley to Rana of Bommalaattam, his characters never followed any stereotype and the likes of such characters can never be found before Bharathiraja wrote them.
The fame he attained in Tamil cinema is not the one that can be overlooked. For those village youngsters who don't dare to pursue their dream, due to their fear of city life, Bharathiraja's life is an inspiration. It teaches them that talent is the only thing you need to achieve your dream. Two such youngsters followed his suit and tasted enormous success in the cine field. They are none other than directors Bhagyaraj and Manivannan.
Though all his assistants were dear to him, Bhagyaraj holds a special place in Bharathiraja's opinion. He was one student who could master the lessons taught by him and implement it better than others could. Bharathiraja introduced Bhagyaraj as an actor in Padhinaaru Vayadhiniley. Next, Bharathiraja made Bhagyaraj the hero of 'Pudhiya Vaarpugal'. This is how Tamil cinema got this wonderful actor who made it big among the family audience. Manivannan was also introduced as an actor by Bharathiraja, in the movie 'Kodi Parakkudhu'. With that introduction, Manivannan became one of the versatile character artists of the 90's. Ponvannan was also introduced to the screen by Bharathiraja, in the movie Pasumpon.
He also holds the credit for introducing many talented actresses to Tamil cinema. Revathi, Rekha, Radhika, Radha were introduced by him and took Tamil cinema to the next level with their expertise in acting.
In the 1980's all the actresses introduced by Bharathiraja were renamed with names that started in R, due to sentimental reasons. Later, he broke this sentiment in the movie 'Pudhu Nellu Pudhu Naatthu'. "Who am I to change the name given to them by their parents?" was the reason he gave for breaking this sentiment.
It is said that Bharathiraja, Ilaiyaraja and Vairamuthu are the three gems who turned the film industry. In this trio, it was Bharathiraja who led Ilaiyaraja and Vairamuthu inside the kingdom of Tamil cinema.
There are some names that become a part of an evergreen duo. For example, Rajini – Kamal. If they are the duo of actors that rocked the 70-90's era, Bharathiraja-Balachander was the duo of directors that revolutionised Tamil Cinema during that era. Bharathiraja and Balachander shared a beautiful friendship till the end. Balachander is not a person who praises another person easily. After seeing Padhinaaru Vayadhiniley, even that rock-hearted person became emotional and hugged Bharathiraja. Till date, Bharathiraja fondly recollects Balachander's words after seeing the film – "It's thundering in my heart". Recollecting those moments makes him emotional every time. Bharathiraja's favourite in Balachander's films is 'Neerkumizhi'.
Generally, when one asks about Bharathiraja's masterpieces, the common answers include Padhinaaru Vayadhiniley, Mudhal Mariyaadhai, Kizhakku Cheemayile, and so on. But if you ask Bharathiraja his favourite of his films, the answer would be 'Bommalaattam'.
Direction is not the only area he aced in. He is a seasoned actor too. His role as an experienced politician in the movie 'Aayudha Ezhuthu' is one of his best performances. Though he has acted even before this role, this is one of the milestone characters he has played. Even today, he is every director's first choice for the role of a caring father or grandfather.
He has directed more than 40 films. But not once has he had to wait for an actor's call sheet.
Directors started gaining a special respect during the time of director Sridhar. His movie 'Kalyaana Parisu' was the first tamil movie in which the director's name in the credits received applause. The next director to gain such respect was Balachander. It was only during his times that people took the decision of seeing a movie after checking the director's name on the movie posters. But Bharathiraja shattered the records of such seasoned directors. In 1980's there were 950 fan associations for Bharathiraja. That was the era when the creation of class directors held a place higher than mass heroes. Later, he requested the dissolution of all fan associations, citing the reason "It is one thing to be a fan or admirer, but the admiration should not turn into worship"
He also showed that movies with strong social messages can impact the society. Bharathiraja movies such as 'Vedham Pudhidhu' and 'Karutthamma' have dealt with sensitive and less-focused issues such as casteism and Female oppression and infanticide.





No artist can claim to be self-made. Talent feeds on inspiration. Bharathiraja is no exception to this. His film journey is the result of being inspired by five people – Sridhar, Balachander, Santharam, Sathyajit Ray, and David Lean.