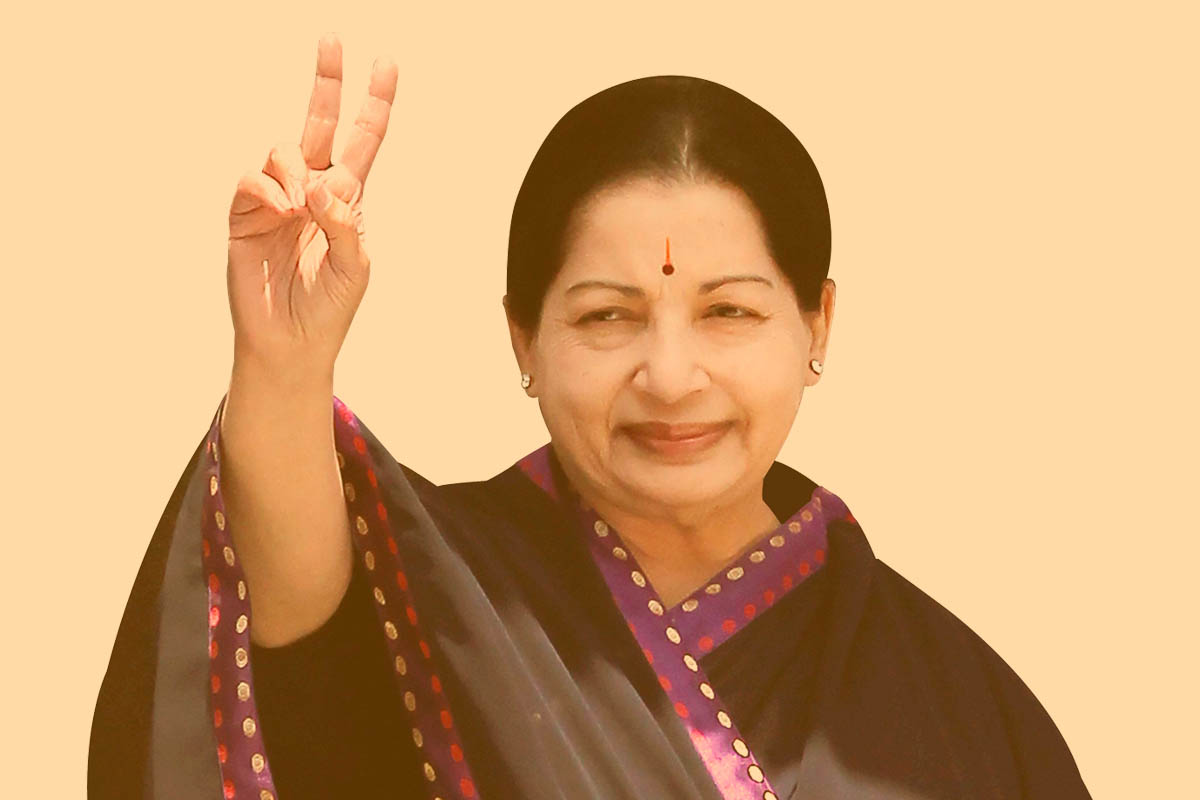 J.Jayalalitha
Despite facing numerous biases and insults for her gender and acting profession, Jayalalitha turned all those into stepping stones to her throne. The majestic look, her trademark saree and the sharp sight that reminds one of a panther's look, will always be an inspiration for the women of Tamil Nadu.
Being one of the very first women to enter politics in Tamil Nadu, Jayalalitha had to go through severe hardships and unfair criticisms before she could claim her rightful place. She is the inspiration for all Indian women who wish to pursue a political career. In the latter 1980s, when Jayalalitha entered politics with dreams of becoming the chief minister, almost all male politicians, including those in her party, were unhappy. Somehow, Janaki's entry to politics seemed acceptable to them, but Jayalalitha's entry seemed less so. They couldn't digest that a woman, and that too an actress who dances to cine tunes was audacious enough to have a political dream. What's worse is these comments were made in her presence, well-aware that she can hear them. At almost all public speeches during her initial years, instead of considering her words, a voice from the crowd would ask her to dance to her famous songs. This publicly gave the image that her profession will always be made fun of, whatever promises she makes. But she overcame all this prejudice and achieved her dream. When she became the chief minister of Tamil Nadu for the first time, she was 44! This is a record that shattered the records of all male politicians in the state. With this rock-like stubbornness and tenacity in achieving her dreams, women who wish to make it big in political careers take inspiration from Jayalalitha whenever they hit the low graphs of their careers.
She made a big impression amongst the women folk of Tamil Nadu. Even today after her demise, the word 'Amma' has not lost an iota of its gravity in the vote banks. She instituted various welfare schemes for women. Introduction of Cradle Baby scheme to abolish female infanticide, gifting gold for the marriage of women from simple background, extension of maternity leave for the convenience of pregnant women and new mothers, free mixie, grinder and fan to women of both urban and rural areas to reduce the strain of household chores, installation of feeding rooms at bus stands for the convenience of feeding mothers, full body scan for women and reservation for women in government sector jobs – such great measures have not escaped the notice of Tamil Nadu's women. The word 'Amma' became closer to their heart. Jayalalitha's sincere efforts in improving women's livelihood has a massive role in women empowerment in Tamil Nadu.
Amma Unavagam' can be considered as the Magnum Opus of her political career. Her victory did not lie in selling idlis at 1 Rupee; her victory rooted from the fact that she gave 1 rupee idli at the same quality of that of high class hotels. Another great move was having an all-women administration for these hotels. Along with feeding thousands of poor, Amma Unavagam has also improved the life of many women. It was a great step that achieved dual goals. Generally, a step taken by one party will not be implemented by other parties. But Amma Unavagam scheme was so good that it was incorporated in Karnataka as 'Indira Unavagam' by Congress, as 'NTR Unavagam' in Andhra Pradesh by Telugu Desam Party. Even the rival party in Tamil Nadu announced that this scheme will not be discontinued even if they win the election, and that this great scheme will be continued in their name with their contribution.
Generally people don't expect female politicians to be as explicit as male politicians. Even if they are, the answers don't receive the same reception as those of male politicians. While it is a common practice to ask men about their childhood crushes, it is deemed inappropriate to ask a woman the same question, thanks to the 'boys will be boys' mentality. But Jayalalitha's candid interview without Simi Garewal broke all these stereotypes. When asked about her childhood crushes, she casually answered that she had a crush on cricketer Nari Contractor and Bollywood actor Shami Kapoor. Later when she was going steady with Shoban Babu, she did not hush it under the covers. She bravely commented, "You can think whatever you want. I'm living my life and not anyone else's."
Jayalalitha is often regarded as an arrogant personality. But it is an undeniable fact that this arrogance is what saved the state. In the 2012 National Development Council, Jayalalitha represented Tamil Nadu. Amidst her speech, the officials cut her off saying that her time was up. To this, she said, 'I am the chief minister of a state, not your puppet' and stormed out. She couldn't be pacified even after Manmohan Singh came outside later and apologised for the actions of the officials. Not just that, till she was in the Chief Minister's chair, she did not allow the implementation of NEET exams that were unfair to the rural posts of the state.
ADMK was sitting even during the days of MGR. But Jayalalitha made it stronger. She bettered the structure of the party so that it could reach every village of the state. The steps she took are what gave the party the merit of being the first party in Tamil Nadu to have 1 crore members. Keeping criticisms aside, the party members give Jayalalitha the same respect they give MGR. The representatives may use the word 'Amma' just for the vote bank, but the party followers of members from rural areas mean every letter when they say 'Puratchi Thalaivi Amma'.
Judging her religious stance is a difficult task indeed. She has given generously to religious charities, but has also ordered the arrest of Shankaracharya. Whatever be the issue, she never compromised on the humanitarian perspective. It was during her rule (1991-96) that the reservation of 69% was confirmed (The reservation was at 68% during the previous ADMK rule of MGR . During DMK rule of Karunanidhi, an additional 1 percentage was announced for scheduled tribes, which brought the total reservation to 69%). This gave her the title of 'Samuga Needhi Kaattha Veeraanganai" from Dravidian party leader K Veeramani. The title means "the warrior who protected social justice".
Jayalalitha understood that education is the only thing a girl can rely upon unconditionally. She instituted various measures for education of women. No other Indian Chief Minister can parallel her in improving women's education. She provided free bicycles for school-going girls. This idea was later adapted by various other Indian Chief Ministers. She didn't stop with that – the service continued to free uniforms, school bags with necessary educational accessories.
The free laptop scheme was a boon for rural area students who could not afford a computer. If Karunanidhi started an information revolution through his free television scheme, Jayalalitha sowed the seed for an educational revolution through this free laptop scheme. With such easy access to information, the students of Tamil Nadu have started reaching greater heights in all fields from medicine to administration. The Chief Minister of Punjab, Amarinder Singh, later adapted this idea and brought to action the distribution of free smartphones to school and college-going students.
"Whether we like it or not, if we started doing something, we have to give it our best" – this was her principle. She didn't like Bharathanatyam, but she was the best of her batch. She didn't like the acting profession. Still she was the leading actress in 1960-70s. Top actresses in the years to follow were inspired by Jayalalitha in some way or another. Politics also became a field she disliked after a point of time. She expressed the same in her interview with Simi Garewal. But till her last breath, she battled whatever field she was in, like the lioness she was. After Anna and MGR, she was a Chief Minister of Tamil Nadu who died when they were in power. When she left the mortal world, she left ADMK ruling with 134 constituencies in the state level and 37 constituencies at the Central level.
If one has to pick just one of the many highlights of her political career, it would be that she entered the field with no political background in her family and established her domain with merely her resolve. It is not often that we find such personalities with nerves of steel. The control she exercised, her love of people and her steely resolve make her the rarest of the rare, and such a rare breed is what we hope the future will gift the state with!