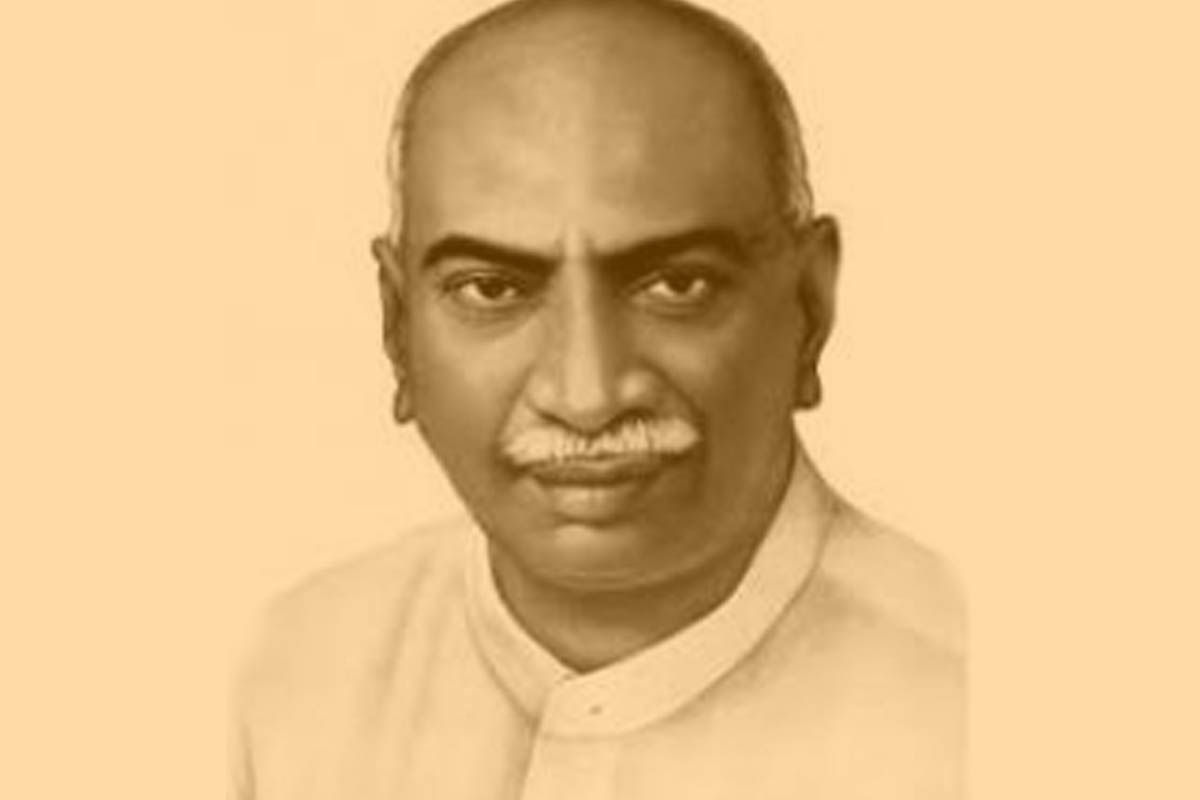 Kamarajar
A leader who was the epitome of simplicity, honesty and sacrifice – Karmaveerar Kamarajar! It is said that when he passed away, they found less than Rs 100 in his pocket. But when he stepped down from his Chief Minister post, he left the state treasury with crores and crores of money! Through his selfless service he proved to the people time and again that he is a rare gem whose shine is unparalleled.
He was the role model for the Chief Ministers who succeeded him. In Anna, you can see Kamarajar's quality of selfless service; in Karunanidhi, you can see Kamarajar's practical approach; in MGR, you can see Kamarajar's approach toward the common man; in Jayalalitha, you can see Kamarajar's fearlessness. In the entirety of the welfare schemes implemented by these 4 leaders, we can see Kamarajar's impact.
The relationship between Periyar and Anna was that of a teacher-student relationship. But the relationship between Periyar and Kamarajar was that of a father-son relationship. Periyar nurtured Kamarajar's political career from the start. It was Periyar who encouraged Kamarajar to contest in Gudiyatham district in the 1954 by-elections. But Kamarajar hesitated before making the decision. He confided to Periyar, "I am not that popular with the people of this constituency. I don't think I can win if I contest here." To this, Periyar confidently replied, "You contest. I'll take care of your victory." And true to Periyar's words, Kamarajar won the by-election. Periyar jumped to the streets of Gudiyatham to campaign for Kamarajar. And in every stage speech of his, he campaigned for Kamarajar – "Cast your votes for Kamaraj, the son of Tamil soil". In that period Dravida Munnetra Kazhagam was a relatively young party that did not get into the election politics. But they were still strong enough to create an impact on the campaign field. Anna being Periyar's disciple seconded Periyar's decision of supporting Kamarajar. Anna openly announced his support for Kamarajar. Kamarajar was opposed by Kothandaraman of Communist party. The election results announced that Kamarajar won the election by a big difference. After winning the election, Kamarajar sought the first blessings from Periyar.
Generally, it is said that Kamarajar lit the lamp of education in Tamil Nadu. But a better expression would be Kamarajar gifted the lamp of education itself. In his 9 years of service as a Chief Minister, he opened 18,000 schools. His ministry incessantly worked on the betterment of the education system. This is how he pushed the literacy rate from 7% to a whopping 38%! One of the most important measures he took to boost the literacy rate is expanding the Mid-day meal scheme. Initially, the mid-day meal scheme was implemented only for schools in Chennai. Kamarajar implemented this scheme in all schools of Tamil Nadu. When his ministers reported that there was not enough money to finance this project, he said, "How will children learn when their stomachs are burning with hunger? Somehow, we have to find a way to give the children a wholesome meal". He pieced together the required finance from the funds granted by a Central Government and donations and made the midday meal scheme a great success across all regions of Tamil Nadu. Next, he focussed on providing decent uniforms to the children. The Free Uniform scheme he implemented was also a great success.
In a way, we could say that Kamarajar was a member of Congress who had the Dravidian interest at heart. He was a strong Indian Patriot who championed the upliftment of the oppressed classes. "An injection from a doctor who is from an oppressed class will not kill anyone. Buildings built by engineers from oppressed classes will have the same quality as that built by any other engineer. Given the chance, anyone can pursue the career of their dreams" – these were his golden words on providing equal opportunities to all classes. He expressed that unity is of utmost importance if we want to grow.
Kamarajar was a devout follower of Gandhian principles. In 1963, he stepped down from the Chief Minister post and decided to take up an administrative post in the Congress party. Gandhi Jayanthi was on the day he arrived at this noble decision. After Nehru, only 2 members garnered the same level of respect from the members as Nehru received – one was Jayaprakash Narayan, and the other was Kamarajar. When Kamarajar was offered the position of Prime minister, he refused it and recommended Lal Bahadur Shastri for the position. He preferred to walk Gandhi's path of serving people. In 1969, Congress split into 2 groups – Indira Congress and Original Congress. Kamarajar became the core of the Original Congress. Soon, the members of Congress rewarded the Original Congress with another name – Gandhi's Congress!
If Nehru was a Prime Minister who handled 12 Prime Ministers, Kamarajar was a Chief Minister who handled 8 Chief Ministers. Kamarajar's ministry was composed of potential Chief Minister candidates like C Subramaniam, Bhaktavatsalam, etc. But his reputation among people and his patriotism made him stand out from the rest. In a way, his kindness and compassion give us reason to compare him with Karna of Mahabharata. The way he walked to the assembly campus with his dark skin clothed in white clothes will make us think of Mahabharata's Karna standing majestically under a grand umbrella in his court. The pictures of Nehru and Kamarajar sitting together are the best examples for this comparison. Kamarajar would resemble Karna, who is seated regally on a throne to the right of Duryodana.
Though Kamarajar considered all Indian languages special, he particularly rendered more service to his mother tongue, Tamil. He made Tamil a medium of instruction to facilitate easy learning. He made sure that all technical subjects were translated to Tamil for the convenience of students. Typewriters with Tamil keys were made mandatory in Government offices during Kamarajar's period. Until Kamarajar was in the CM chair, no talks of Hindi Imposition could enter Tamil Nadu!
Kamarajar laid the foundation for agricultural and industrial development in Tamil Nadu. Vaigai dam, Manimuthaaru dam, Keezh Bavani dam, Parambikulam dam, Saathanur dam were built during his period. Neyveli Brown Coal Mines, Chennai – Avadi Military Logistics Factory were some of his great moves in pushing Tamil Nadu towards technological progress.
Unlike his contemporaries, Kamarajar did not have oratory skills. He built his reputation solely with his deeds. A google search for Kamarajar's quotes would tell how less he spoke. Even in the assembly, he kept his answers to the point with replies like yes, no, we will do it, we will discuss it. In his 9 years as a Chief Minister, he has given only 6 long speeches at the assembly. The chatter in the assembly was that, "One day we may even be able to predict weather and rain precisely, but we cannot say the same for Kamarajar. He is hard to predict." Despite no memorable speeches, no grandeur, no show off to make people remember him by, people still honour him on July 15, his birthday with folk songs. Such is the respect he garnered.
Kamarajar staunchly believed that the law was for the people and it is not the other way around. In his rule, no plan was postponed by mere red-tapism. A noteworthy incident would be the proceedings of Parambikulam – Aazhiyaaru dam. The Public Works Department of Tamil Nadu and Kerala were shuttling replies for years together. Kamarajar observed this and told his assistant, "If we leave the matter in their hands, they'll keep talking for another 58 years. Place a phone call to Namboodiripad." Namboodiripad came online. Kamarajar spoke in his usual reprimanding tone, " Both of us are working for the nation's welfare. We don't have to differentiate between your people and my people. If you give us water, will we not give you electricity?" In the next 24 hours, Namboodiripad sent the signed sanctions to give water to Tamil Nadu!
'Kamarajar Aatchi', which translates to 'Kamarajar's administration', is a famous phrase in Tamil Nadu. But it means more than an administration style. It means honesty, simplicity, compassion and kindness in personal life too. It also refers to the determination it took for a person from an oppressed class to scale such great heights. If an honest and simple person from an oppressed community gets to rule Tamil Nadu, every citizen would utter the word 'Kamarajar Aatchi' without any prompting.