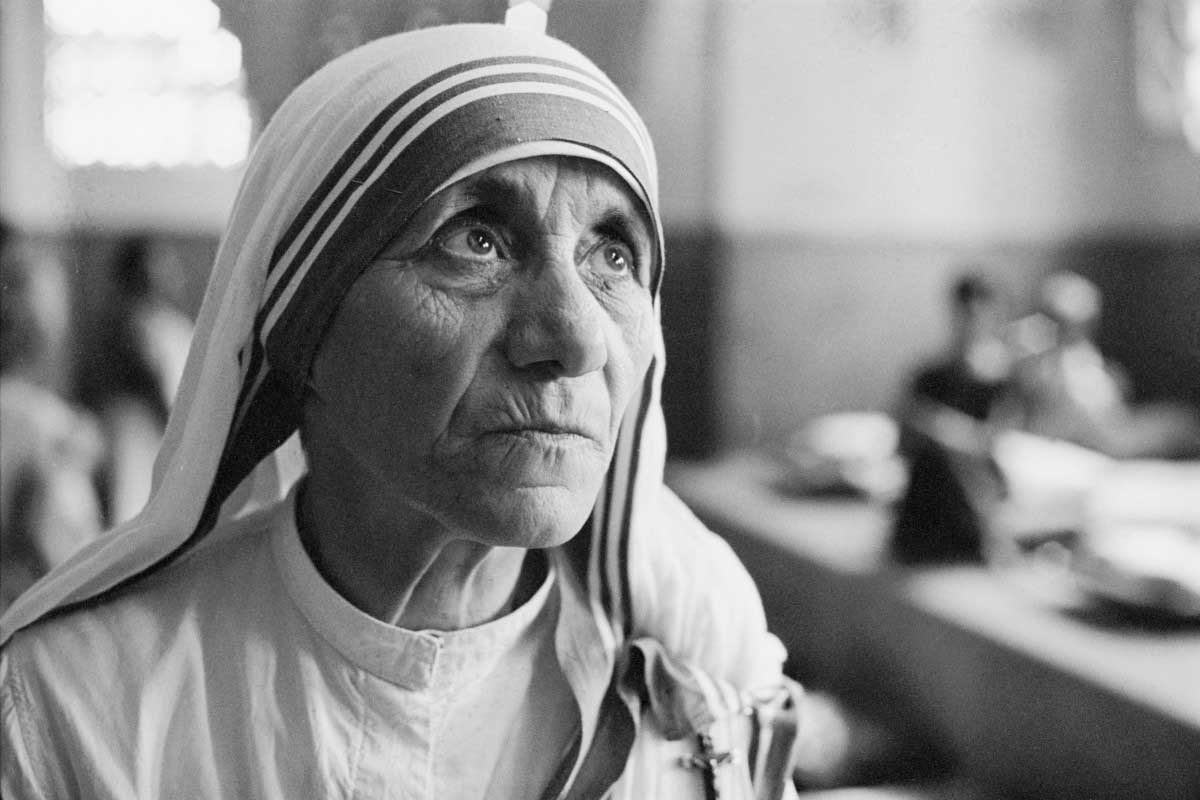 Mother Teresa
The values of love, compassion, charity, and tolerance decided to take a human form and were born as Mother Teresa. She was a Goddess of kindness who taught the world about caring and giving.


She was born in Albania and her given name was Agnes Gonxhe Bojaxhiu. She was more inclined toward spirituality and charity since her childhood. At the age of 18, she joined the Sisters of Loreto, a Roman Catholic congregation. During that time, she was very much impressed by the service rendered by Indian missionaries in Kolkata. So, she left Dublin to serve the needy in India. Later, she had to leave for Ireland to finish her religious studies. In 1931, she took her first religious vows and was named Teresa.


From 1931 to 1948, she was a teacher at the St. Mary's High School for Girls. After 1948, she wanted to devote her entire time to serving the needy. She realised that her purpose was to help the poor find a better life and started on her journey of selfless service.


At one of the awards functions, she participated in, the guests saw something strange. They saw Mother Teresa filling her bag with the sweets served at the function. On seeing this, she was asked why she was doing so when she could eat all she wanted right there. To this, Mother Teresa replied, "I can have all these tasty sweets here, but there are children in my shelter who have not even seen these delicacies in their life. I'm taking these sweets for them." Hearing this, the people at the party packed and gifted all the sweets for the children at Teresa's shelter.


When someone was diagnosed with a terminal disease, their own relatives were only too ready to desert them. To those sick and diseased people, Teresa was a god-sent angel who held their hand and gave them hope. Life was especially hard for those infected by leprosy. No one dared to near those infected by this disease. Teresa helped nearly 42,000 people, a population that included men, women, and children, gain hope in life.


When she started out, she had to face a lot of insults. She was branded 'a person who came to spread Christianity' and 'a person living on others' funds. Once she had gone to a businessman in Kolkata to ask donations for those affected by leprosy, the businessman spat on Teresa's hands to insult her. It is one thing to not give, but it is entirely a different thing to insult the nobleness that intends to care for others. Without reacting to his cheap actions, Teresa said "I shall accept this as a gift for me. Please give something to the poor people affected by leprosy, who stay in my shelter." Seeing her magnanimity to overlook such an insult, just to help the needy, the businessman apologised to her immediately and donated generously to the cause. This highlights Teresa's saying "Helping hands are better than praying lips."


The then pope wanted to appreciate the efforts of Mother Teresa. When he visited India, he gifted her his luxury car. Mother Teresa accepted it, but she did not use it. She auctioned it and directed the amount realised toward her charitable organisation's funds. This heart to give her all for the betterment of the poor is what makes people celebrate her as the icon of love and compassion.


The Missionaries of Charity started by her is still being continued by her disciples, as a legacy left by her. This organisation which started with merely Rs.5 and 12 nuns has now grown enormously and branched out through 132 countries. It has over 500 centres in India. This organisation has lent a helping hand in uplifting victims from various disasters and tragedies like the worse-than-death levels of poverty in Ethiopia, Chernobyl nuclear accident, earthquakes in Armenia and so on. To honour her selfless service, she was awarded the Nobel Prize for Peace in 1979 and Bharat Ratna in 1980. When she passed away in 1997, her belongings consisted of 3 white saris, a rosary, and a cross. Those were all she ever owned. Those and the love of thousands of people. 20 years after her death, the Vatican Church honoured her with the 'Saint' title.


With the wish to honour this noble soul who spent the majority of her life serving and helping others, MGR named a women's university in Kodaikanal after her. An excerpt from one of the songs of the legendary poet Kannadasan says "Manidhan enbavan dheivam aagalaam", which means, a human can become a God. The best example for these words is Mother Teresa who became the God for many through her compassion and care for fellow human beings.