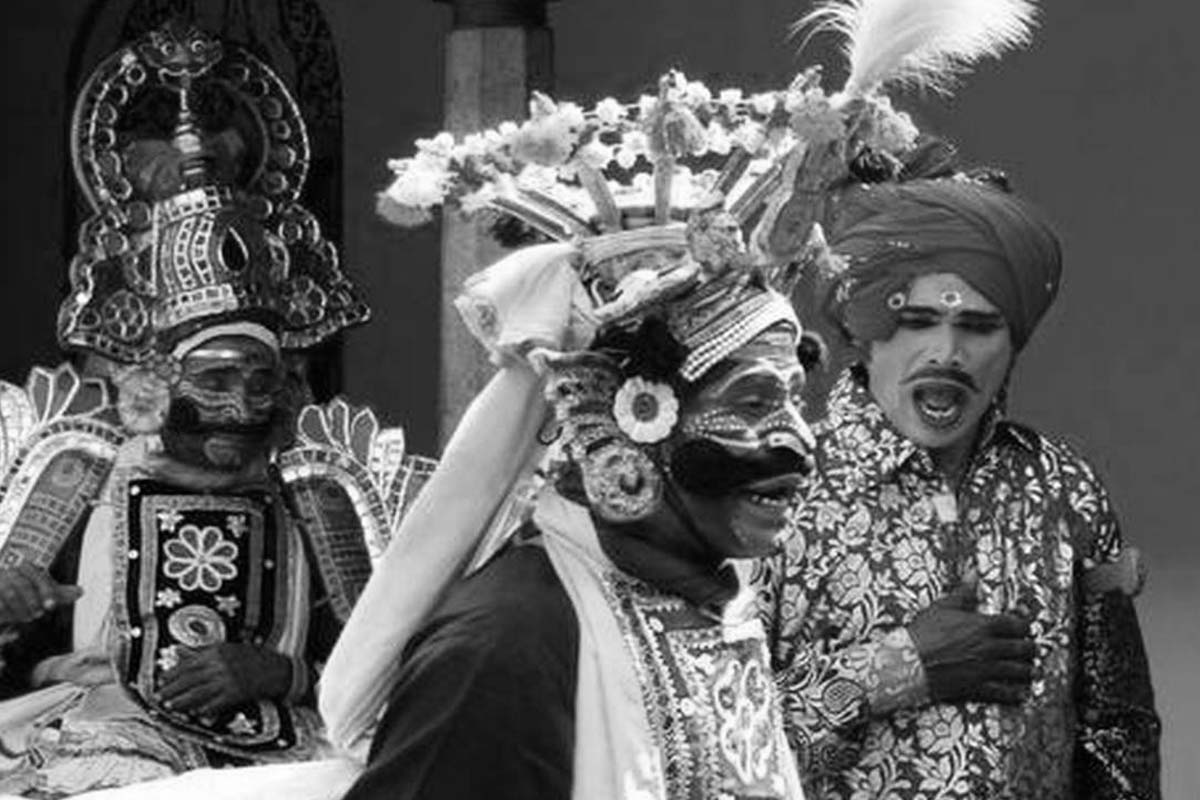 Purisai Kannappa Sambandhan
Hailing from the family that saved street plays from the brink of extinction, Kannappa Sambandhan is now the face of South Indian street plays.
Purisai is a small village in the Seyyaru, Tiruvannamalai district. The Purisai Sambandhan family has been preserving the street art forms for nearly 150 years. In the line of Duraisami Thambiran, Raagava Thambiran, Natesa Thambiran, Kannappa Thambiran, now Sambandhan Thambiran has taken it upon his shoulders to make street plays flourish.
Though he comes from a family of street play artistes, street plays gained national recognition only during the time of Natesa – Kannappa Thambiran. Sambandhan Thambiran is determined to take this to the next level.
His 'Therukkootthu Payirchi Palli' in Purisai maybe regarded as his greatest achievement. He started this school in 2003, shortly after the death of his father, Kannappa Thambiran. Thanks to this school, youngsters have started recognising the effect street plays have on people.
Street plays are one of the earliest forms of storytelling. Due to its rich age, we might see a lot of traditional elements, histories, and heritage in street plays. But the demand for it started decreasing radically after cinema came into the entertainment field. So it is no small feat when Sambandhan Thambiran attracted the young generation toward street plays.
Mahabharata is the perennial source of stories in street plays. The realistic portrayal of such an epic is the speciality of Sambandhan Thambiran's crew. Try watching Karna Motcham, Rajasuya Yagam, and Veera Abimanyu on the net. You can witness a variety of emotions and expressions within a short span of time.
But don't think their plays are limited to old texts only. From Ramayana to Garcia Marquez's 'A very old man with enormous wings', Sambandhan Thambiran's crew have explored every genre of storytelling.
March – July is a busy period for his crew. It is the season during which a lot of events take place at temples. During such periods, the crew forget their individual characteristics and identity, and live, eat and speak like the characters they play.
Before the 2000's, there were not a lot of women in street plays. This situation turned around due to Sambandhan Thambiran. He cast his daughter Gowri as Kannagi in 'Silambuchelvi' play. She is next in line to push the art of street plays forward.





Street play is not an art form that fetches lakhs. But it is the base for the arts that fetch lakhs. It is the art of street play that gave birth to the arts we now consider 'refined'. This is precisely why Sambandhan Thambiran's, and his crew's efforts to preserve such an important form of art, deserves more recognition from the state government of Tamil Nadu.