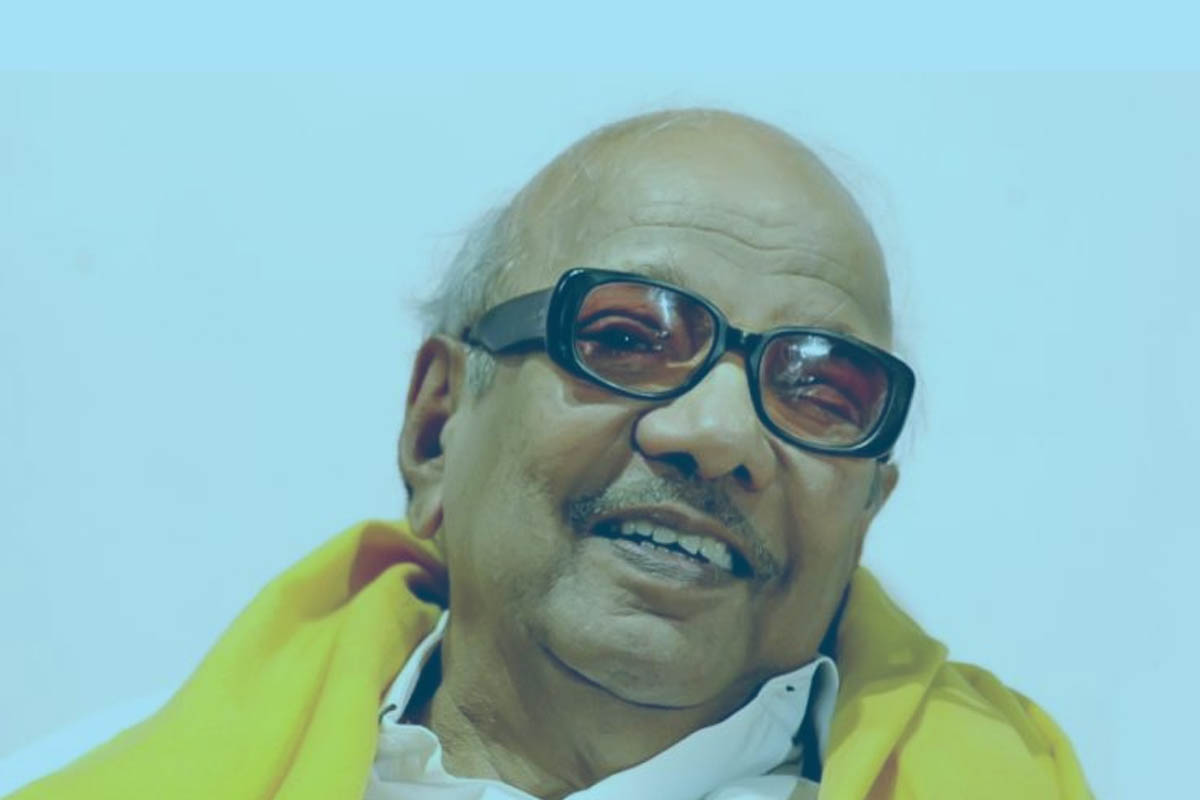 Kalaignar Karunanidhi
Kalaignar M Karunanidhi – A leader who never completed his sentences without the words 'Tamil, Tamilians, Tamil Nadu'! The development our state has had over the past few decades would be much lesser than what it is now if not for the colourful vision of the eyes behind those black sunglasses.


It is hard to find efficient leaders who share a love for language, and for administration even at the global scale, let alone at the national scale. If history has to give us such a figure who loved literature and administration equally, it would be Ashoka. But Ashoka had a royal background to give him access to all possible resources. But Kalaignar's humble beginning from a minority community makes his story all the more powerful and inspiring. He never let his background size down his dreams. "If anyone tried to suppress us, he would basically be walking toward his own end" – this was the thought that kept the fire burning inside him.


It is tough to find another politician in India who has gone through the level of problems and misunderstandings Kalaignar had faced. Even in his own state, a good percentage of people have a serious misunderstanding of his political views. But he kept following his dream, without minding the increasing obstacles. He is the only politician in India to not have lost any election. He has been a member of the legislative assembly 13 times and has been the Chief Minister of Tamil Nadu 5 times.


Periyar instilled the thought, Anna spread the thought, but it was Kalaignar who made that thought a reality. For example, equal property rights for women. Periyar thought about it, Anna spoke about it, but it was Kalaignar who passed the law for equal property rights for women. Samathuvapuram, a place beyond all social constructs such as castes, religion and gender were something that Periyar and Anna would have lauded him for.


A good leader is one who counts the welfare of every section, even if the section is composed of only one person. Kalaignar formed welfare committees for the differently abled and for transgenders. His government gave them all necessary concessions for their welfare. Hearing the news of his demise, a crowd of differently abled and transgenders mourned the loss of such a leader who protected inclusivity at all costs.


As to his efforts for industrial development, he is the first politician in India to have introduced the Information Technology Policy. Tidel Park in Chennai is a reflection of his efforts toward industrial development. He put an end to hand-pulled rickshaws, as it is an abuse of manual labour. A ration shop for every village/town gave people easy access to day-to-day provisions. This scheme was introduced during his first term as the Chief Minister of Tamil Nadu. Tamil Nadu Civil Supplies Corporation was also a step taken by him. You can keep listing the measures he took for the betterment of the people's livelihood; it's hard to find the end of the list. The name 'Father of Modern Tamil Nadu' fits him well!


The Tiruvalluvar statue in Kanyakumari is yet another impressive page in his biography. It pulled the gravity of the world's attention toward South India. Though Thirukkural is every Tamilian's pride, not everyone was familiar with it. So, along with showing Thiruvalluvar on a grand scale, he also made Thirukkural popular by displaying Thirukkural in Government buses, Government offices, school campus walls, and thereby made it more popular among people. Among the commentaries on Thirukkural, one can easily pick the best 2 – one would be the commentary of M Varadaraasanaar and the other would be the commentary by M Karunanidhi!


The industrial domain of Tamil Nadu was also one among those who mourned the demise of Kalaignar. They praised his leadership, saying that he never hesitated to contact anyone at any time, if it promised welfare and growth. By improving the agricultural domain, he made sure that Tamil Nadu was taking balanced steps toward growth. The Uzhavar Sandhai concept brought forward by him, eliminated the need for middlemen and helped farmers save on commissions, thereby increasing their profits. Free electricity for farmers is yet another great plan he implemented for farmers.


But what about infrastructure? The Kathipara flyover in Guindy, Chennai was built during his period. SIPCOT is yet another proof of efforts to make Tamil Nadu industrially progressive. Anna Centenary Library is a holy shrine for readers. The secretariat building may not be in use, but the bus stop is still identified as 'New Secretariat'.


Reminiscing teachers and their teachings pave the way to greatness. Kalaignar never failed in paying his respects to his teachers – Anna and Periyar. He renamed Mount Road as 'Anna Salai'. When he built Asia's biggest library, he named it after Anna. Samathuvapuram was named 'Periyar Ninaivu Samathuvapuram' by Kalaignar. A remarkable incident – it was the period when Kalaignar was sick. Not just sick; bed ridden and unable to speak. Doctors were trying to get him to speak. They said "You can speak. Just say whatever word comes to your mind first.' He slowly opened his eyes. Everyone around him was pondering what word he would say first. Would it be Amma or Appa or the name of any of his children. He surprised everyone around him by saying 'Anna'.


He is one of the few Tamil politicians to make a national level impact, after Kamarajar. Whatever party he allied with, his opinion on any political move was given good weightage. His role in V P Singh's and Devagowda's ascent to the Prime Minister seat is significant. When Jayalalitha was trying for her candidature for the Prime Minister post, a question was posed to Kanimozhi, Kalaignar's daughter -"Does Kalaignar not aspire for the Prime Minister post?" To this she replied, "He was considered for the President's office, but he refused the offer saying his interests lie only with Tamil Nadu and that he would work only for the people of Tamil Nadu.


His wit was something that could easily impress anyone. One time a reporter asked him what his favourite food was. Other leaders would have given a one word or two-word answer of the dish's name. Kalaignar's reply was, "I like fish gravy made by my mom using the fish caught by my dad. Today my father isn't here to catch fish, I don't have my mother to make the gravy, nor is fish on the list of foods prescribed by my doctor!" Another instance would be his response during the demise of Prabhakaran. It was rumoured that Prabhakaran wasn't actually dead and that he may have escaped to some other country. Reporters asked him "Is Prabhakaran alive or not?" His reply to this was "A real warrior never dies." His stage speeches also had the right mix of wit. He was at a meeting in Kanyakumari. Generally, Kanyakumari is not a region that favours DMK much. To emphasise this, he said "Nellai engaluku Ellai! Kumari engaluku thollai! This translates to 'Tirunelveli marks our fence and Kanyakumari marks our trouble!


Parasakthi's dialogues penned by Kalaignar made it a milestone movie of Tamil cinema. Tamil cinema that relied mainly on love and comedy took a step forward with the radical script and dialogues of Parasakthi. The dialogues were a bitter pill for the superstitious lot and a great win for rationalists. In Manohara, Kalaignar's dialogues mocked dictatorship and tyranny boldly. Even during the days in which his movements were restricted, he scored another win for rationality through 'Ramanujan' serial.


In an India that used freebies to just win votes, Kalaignar used freebies to win hearts. He strategized these freebies such that they improve the livelihood of people. Schemes such as free TV and free house site patta were incorporated by other parties in India. For example, free smartphone and free watch schemes we see today are an extension of the plan Kalaignar devised for the people.


Kalaignar loved everything about Tamil language except for the word 'Oyvu', which means rest. From reporting about the assassination of Gandhi's to critiquing the Education policy on Facebook, he never gave his pen a rest. Wind doesn't distinguish between a flower and a rock as it speeds through. Kalaignar was one such wind who could not be slowed down by anything!